Illegal alcohol Death Toll Rises to more than 100 in Indian state of West Bengal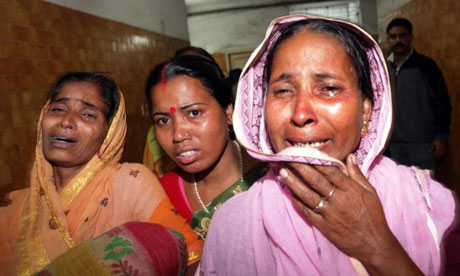 Angry people descend on Diamond Harbour distillery blamed for toxic batch of
desi daroo
, a commonplace bootleg spirit
.
More than 100 people have been killed by contaminated homemade alcoholic spirits in the Indian state of West Bengal.
Most of the dead are poor manual labourers, rickshaw pullers and hawkers who drank the "country liquor" at a series of makeshift bars all supplied by the same illicit distillery in the town of Diamond Harbour.
Scores more are being treated in hospital and the death toll is expected to continue rising.
"I had purchased two half-litre pouches for 10 rupees while returning home last evening and drank the liquor before dinner. After midnight I felt a pain in my throat. Then I started vomiting," Julfikar Saddar, 35, told the Calcutta Telegraph newspaper from his hospital bed.
This kind of poisoning is frequent in India where local police and inspectors regularly take bribes to turn a blind eye to the production and sale of illicit alcohol, also known as desi daroo. Most cases go unreported.
In 2009, 130 people were killed by illegally produced alcohol in a similar incident in the western state of Gujarat.
Read More