Egypt protesters in standoff with military rulers - live updates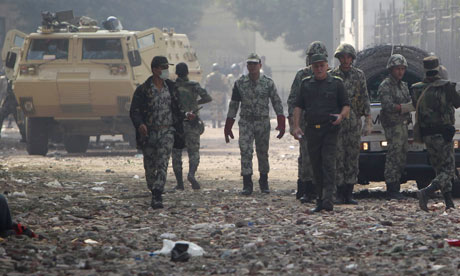 8.15pm GMT / 3.15pm EST: Some of the tear gas being used in Tahrir Square could have been manufactured as long ago as 1985, according to photos taken by Emad El-Din Shahin, a professor at the University of Notre Dame, Indiana.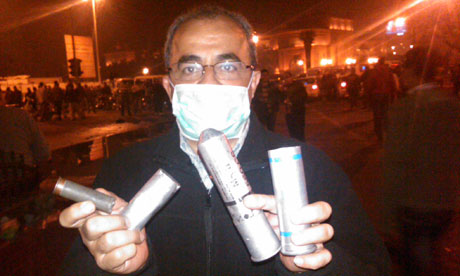 The picture above shows Shahin holding several projectiles. In an email which was shared with the Guardian's Jack Shenker, Shahin writes:
"As you will see from the canister I am holding, this gas bomb was manufactured in Feb. 1985!"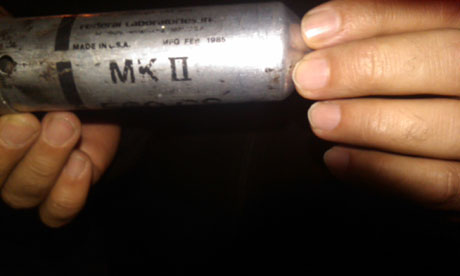 The image below shows the canister more clearly.
7.56 GMT / 2.56pm EST: The reaction in Sana'a to Saleh's signing of a deal to transfer power is "confused and chaotic", my colleague Tom Finn writes.

There are mobs of pro-government supporters cruising the streets with batons and posters of Saleh, some firing machine-guns in the air in anger.

Just a few miles away people are celebrating in Change Square, letting off fireworks, waving tribal daggers and dancing in circles. The sound of fireworks in Change Square is still deafening, but there also lots of bystanders watching the celebrations saying they're not celebrating and that they do not see Saleh's signing as a victory.

A young man named Nazir just came up to me and said in perfect English: "We don't trust Saleh to honour the deal, this deal is not for us it's for the political parties, tomorrow we will burn our election cards and march in support of the Egytian youth."

Others are saying that they won't leave Change Square until the rest of Saleh's family (most notably his son Ahmed, who still heads the republican guard) has left power.