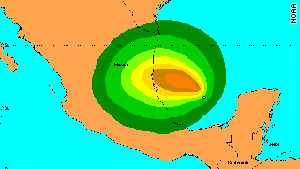 Tropical Storm Arlene, the first named storm of the 2011 hurricane season, is expected to affect northeast Mexico.
(CNN) -- A disturbance in the southern Gulf of Mexico has become a tropical storm and is expected to affect northeastern Mexico, the National Hurricane Center said Tuesday.
Tropical Storm Arlene is the first named storm of the 2011 Atlantic season, which spans June 1 to November 30.
According to the agency's 8 p.m update Tuesday, the storm packs sustained 40 mph winds. Tropical storm warnings have been issued along Mexico's Gulf coast, from Barra de Nautla north to Bahia Algodones.