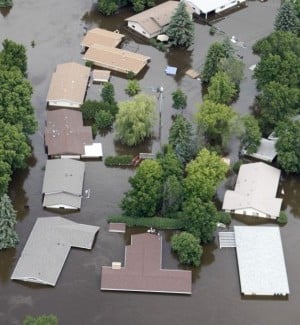 Floodwater from the Souris River surrounds homes in Minot, N.D., on Monday. Floodwater from the upper Great Plains is finding its way down the bloated Missouri River. (Charles Rex Arbogast / Associated Press)
ST. CHARLES • Recent heavy rain is boosting the Missouri River another 6 to 8 feet — not enough for major trouble but a lesson in this summer's higher risk of flooding.
Saturday through Monday, thunderstorms dumped rain across central and eastern Missouri. Hardest hit was the St. Louis area, with 5 to 6 inches. Jefferson City and Columbia each had 2 inches.
The Missouri River already was at or near flood stage across the state because of record discharges from swollen flood control reservoirs in the upper Great Plains. The recent rain is pushing up the river from Jefferson City to St. Charles, where a crest 5 feet over flood stage is expected Saturday.
That won't quite be enough to flood St. Charles' Frontier Park, but the city is moving Riverfest, the July 4 festival, to nearby Riverside Drive and some adjoining parking lots. A spokeswoman said heavy rain made the park too muddy for carnival rides and other activities.
Wes Browning, chief of the National Weather Service office in Weldon Spring, said the Missouri's rise underscores the warning of a greater chance of major flooding on the river this summer. The Army Corps of Engineers, which manages the reservoirs upriver, has said it must discharge water at a record rate through August because of heavy snowmelt and record springtime rain in Montana and the Dakotas.
Said Browning, "When we get concentrated bursts of rain like this, the river will quickly go up."
The upriver discharges have topped a few levees upstream of Kansas City and inspired widespread grumbling over Army corps policies. The Missouri at St. Charles is expected to run at least 9 to 14 feet higher than normal for most of the summer.
On June 16, the weather service and Army corps warned that repeated bursts of heavy rain — even if producing "normal" rainfall spread over the summer — could push the river at St. Charles to 37 feet, which is 12 feet above flood stage and just 3 feet shy of its height during the Flood of 1993.
The crest forecast for Saturday is 30 feet, or 10 feet below that of 1993. On Monday, the river was at 24 feet at St. Charles, 1 foot below flood stage and rising.
"This prediction won't be of major consequence," said Danny Kluesner, secretary of the Consolidated North County Levee District in eastern St. Charles County.
The district's main levee runs for more than 20 miles downstream from St. Charles to the confluence of the Missouri and Mississippi rivers, and then up the Mississippi past Portage Des Sioux. It also protects West Alton.
The Army corps and weather service say their 37-foot scenario wouldn't threaten Chesterfield or other parts of the area with high levees, and predicted that West Alton would be spared. But 37 feet is at or near the height of Consolidated's levee, said Kluesner.
"We could reinforce in some low spots, but you can't raise a levee that's 20 miles long," he said. "However, we have a long, long way to go to get there. It will take heavy, persistent rains along the watershed for that kind of flooding."
Kluesner said groundwater and creek backups already are affecting some farmland behind the levee.
The weather forecast for this week is for a dry, warming period and chance of more storms this weekend.
The Mississippi at St. Louis was 1 foot over flood stage Monday and falling but is forecast to rise 5 feet this week.
Read more:
http://www.stltoday.com/news/local/metro/article_f5770fd7-2ae1-58a3-bc56-24d51c0c90b2.html#ixzz1QcpuMLIM