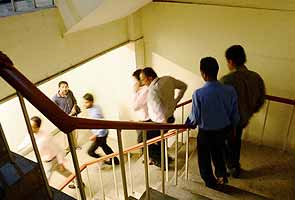 Quetta:
A powerful earthquake hit a remote, impoverished part of western Pakistan today, killing at least 30 people and destroying scores of mud houses in a thinly populated area, officials and residents said.
Tremors were felt as far away as the Indian capital of New Delhi, hundreds of miles to the east, where buildings shook, as well as the sprawling port city of Karachi in Pakistan.
The United States Geological Survey said a 7.8 magnitude quake had struck 145 miles southeast of Dalbandin in Pakistan's earthquake-prone province of Baluchistan, which borders Iran.
Abdul Qadoos, deputy speaker of the Baluchistan assembly, told Reuters 30 people had been killed and at least 30 percent of houses in the impoverished Awaran district had caved in.
In the Baluch regional capital of Quetta, officials said some areas appeared to be badly damaged but it was hard to assess the impact quickly because the locations were so remote.
Baluch chief secretary Babar Yaqoob said earlier that 25 people had been injured and that the death toll was expected to increase.