Letter bomb sent to Greek embassy in Paris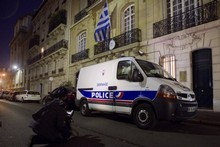 French police have neutralised a letter bomb sent to the Greek embassy in Paris from Italy in what appeared to be the latest in a string of explosive parcel attacks, officials said.
The Greek foreign ministry said in a statement it called Paris police after receiving a suspicious package addressed to the ambassador "without the name of the sender but sent from Italy".
It said French police confirmed the package contained "a bomb of limited strength". No one was injured and no damage was caused, the ministry added.
A Paris police source said officers were called to the embassy after smoke began to escape from the package, stored in the embassy's basement, in what was "apparently the start of explosion".
Read More