Euro drops below key $1.30 mark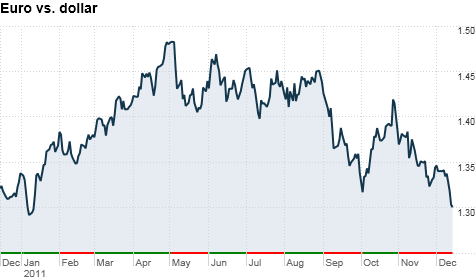 The euro fell to its lowest level since mid-January, easing below the key $1.30 mark Wednesday, as any enthusiasm over Europe's most recent "solution" has cooled.
"This has been a difficult trading year," said Brown Brothers Harriman currency strategist Marc Chandler. "There's more room to the downside."
The euro was trading at $1.2975 and Chandler said next year, it could go below $1.25. It hasn't traded this low since Jan. 11, when Japan pledged to buy eurozone bonds in an effort to stop the debt crisis from spreading.
"We're looking at a protracted economic downturn in Europe," said Chandler. "I'm generally optimistic about the dollar, but (only) out of default because the U.S. looks better than Europe."
Read More