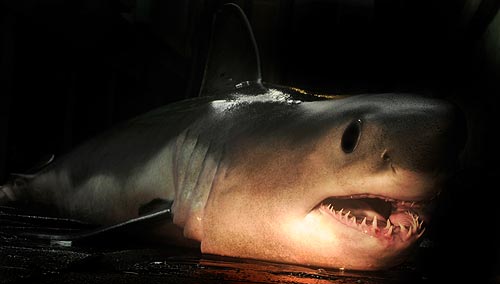 (Sunset Beach, Oregon) – It's the third time in two weeks such a shark has washed up – and the second time this week Seaside Aquarium rushed to a beach situation involving some sort of creature. (All photos taken by Tiffany Boothe of Seaside Aquarium)
On Wednesday – the same day aquarium staff responded to a huge Elephant seal corpse – staff went to the aid of a Salmon shark found struggling in the surf at Sunset Beach, just north of Seaside. The aquarium's Tiffany Boothe said they quickly placed the shark into a container and then raced it to the aquarium in hopes of reviving it.
"Once at the aquarium, staff did what they could to revive the shark but it was obvious that the shark was not going to survive the night," Boothe said. "Typically, sharks found struggling in the surf have something very wrong with them and the likelihood of survival is minuscule."
Earlier that day, aquarium staffed dealt with a larger-than-usual Elephant seal.

The shark was four feet long and a juvenile – which are commonly seen along the Oregon coast. They closely resemble Great White sharks and are often mistaken as baby Great Whites.
Read More