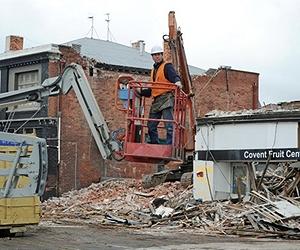 New Zealand offered to buy 5,000 damaged homes in quake-devastated Christchurch Thursday and said it was assessing whether to purchase another 10,000.
Prime Minister John Key said the offer related to homes on land that was now unstable due to the constant seismic pounding endured by New Zealand's second-largest city in the past nine months, making rebuilding unfeasible.
Many residents have expressed a desire to leave the city, which has been hit by more than 7,500 aftershocks of magnitude 3.0 or above since September, when the first of three major earthquakes struck.
A devastating 6.3 tremor in February killed 181 people.
But many homeowners have been unable to depart because of financial commitments to their properties, still paying mortgages on their ruined houses.
Geotechnical experts had divided Christchurch into four zones and residents in the worst-affected red zone would receive a formal offer from the government to buy their homes in the next eight weeks, Key said.
The price will be based on property values before the initial quake on September 4 last year, and the scheme is voluntary, with homeowners able to decide whether to accept or not. They have nine months in which to do so.
Key said the purchase offer was part of "the government's ongoing work to give people of greater Christchurch a clearer picture of what their future holds".
The cost of purchasing the 5,000 homes would be up to NZ$635 million ($517 million), he said, suggesting the scheme could expand significantly, with the status of about 10,000 homes in the orange zone yet to be determined.
"Unfortunately we are not yet in a position to give these residents certainty," he said, adding that many homes were likely to be condemned, making them eligible for the government's offer.
The government wants the homes in the red zone abandoned because the ground on which they are built has been hit by liquefaction, which occurs when seismic tremors break the bonds between soil particles, creating a quagmire.
Christchurch suffered major damage in a 7.0-magnitude quake last September, which was exacerbated when the February 22 disaster brought down office blocks and destroyed much of Christchurch's downtown area.
A 6.0 jolt on June 13 caused further damage, including extensive liquefaction, and aftershocks continued to rattle the city on Thursday, the strongest measuring 3.7.
Seismologists say the prospects of another 6.0 tremor in the next 12 months are around 30 percent.
Key said finalising the purchase scheme, which will be funded from an existing NZ$5.5 billion earthquake recovery fund, was complicated by the scale of the quakes, which could eventually cost up to NZ$25 billion.
The cost of the quakes equated to about eight percent of New Zealand's economic output, he said, comparatively larger than the 3-5 percent estimated impact of the recent tsunami and earthquake disaster on Japan's economy.
"The government remains fully committed to rebuilding Christchurch and that commitment stands firm," Key said.
The city's central business district has been off-limits to residents since February's 6.3 quake because the danger from falling masonry and sinkholes means it remains too dangerous to enter.
Earthquake Recovery Minister Gerry Brownlee said the government offer would allow people to "cash up and go fairly quickly".
Official data released this week showed that since the February earthquake, Christchurch's 350,000 population had declined by about 1,700 compared to the same period last year, with many people departing for Australia.