Rain-triggered floods, landslides leave 105 dead, 63 missing in south China
English.news.cn 2011-06-13 19:33:50

BEIJING, June 13 (Xinhua) -- Rain-triggered flooding and landslides in south China have left 105 people dead and 63 more missing over the past 10 days, the Ministry of Civil Affairs said Monday.

According to the official count, as of 10 a.m. Monday, the rain-caused disasters that occurred since June 3 have left 39 people dead and 21 more missing in Hunan Province as well as 29 dead and 10 missing in Hubei Province.

While in Guizhou Province 24 people died and 32 were missing and in Jiangxi the death-toll stood at 13, according to the ministry.

Prior to the rain, the provinces of Hubei, Hunan and Jiangxi -- located along the middle and lower parts of the Yangtze River basin -- were stricken by a prolonged drought.

The ministry along with the National Disaster Reduction Commission on Monday launched an emergency response in anticipation of more downpours in central and southern China over the next few days.

Meanwhile, they ordered relief-supply reserve stations in 11 provinces and seven cities in these regions to gear up for the expected downpours.

Local civil affairs departments were told to enhance measures and work closely with other related departments to prevent flooding, geographical disasters and other secondary disasters, which may be triggered by the rainfall.
http://news.xinhuanet.com/english2010/china/2011-06/13/c_13927028.htm
Flooding affects many southern regions
BEIJING, June 14 (Xinhuanet) -- Since the flood season began, 13 provinces and autonomous regions have been hit by heavy floods. A total of over 10 million people are affected. 98 people have died. Direct economic losses have reached 8.7 billion yuan.
According to the National flood control and drought relief headquarters, water levels in major lakes and rivers of the country are currently stable. Only a few small rivers' water levels are over the alert height. Major control stations' water levels are at least one meter below the warning height. Hubei, Hunan, and Jiangxi provinces all have their rivers and lakes under control.
According to the National Weather Forecast, from now to Wednesday there will be a new round of downpours in the middle and lower reaches of the Yangzte river. Many regions in southern China will be affected. The China Meteorological Administration has issued a blue torrential rain warning.
http://news.xinhuanet.com/english2010/video/2011-06/14/c_13928735.htm
New Round of Heavy Rain Hits South
2011-06-14 15:01:28

A new round of heavy rain has started to batter several southern regions, increasing the risk of further floods and landslides.

Torrential rain began to lash Hubei, Hunan, Jiangxi and Anhui provinces Monday evening and Zhejiang Province Tuesday morning. The rain is forecasted to last till Friday in some regions, according to local meteorological authorities.

Flooding and landslides triggered by an earlier two rounds of rainstorms have left 105 people dead and 63 more missing in the south over the past 10 days, the Ministry of Civil Affairs said Monday.

The Wuhan Central Meteorological Observatory issued four rainstorm alerts from Monday night to Tuesday morning to get residents in Hubei to brace themselves for the torrential rain.

Twenty-four counties and cities in Hubei have received over 50 mm of rainfall over the past day and the precipitation in Gong'an and Yingcheng has reached nearly 100 mm, said Xu Shuangzhu, chief weather forecaster at the observatory.

In the already hard-hit Yueyang city in Hunan, the new round of rain further damaged the embankments of several reservoirs, and last week, flash floods and landslides caused by the largest rainstorm in 300 years killed 29 people and left 20 missing.

City authorities have ordered the repair of the damaged embankments, checks on all reservoirs for problems, and the evacuation of downstream residents who might be in danger.

In the city of Huangshan in southern Anhui, water overflowed from 35 reservoirs and exceeded the warning levels in 124 reservoirs, according to the city flood control and drought relief headquarters.
http://english.cri.cn/6909/2011/06/14/2741s642701.htm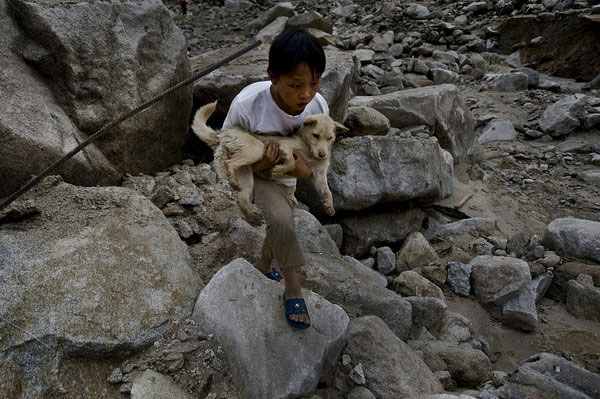 Mao Luojian, 15, from Yueyang, Hunan province, lost his parents and grandparents during a landslide. Carrying his dog, Mao walks through the ruins on June 11. After the landslide, the dog was found waiting at the ruins for its masters without food or water. Many netizens on micro blogs responded to media calls to help Mao.
Photo:
http://www.chinadaily.com.cn/photo/2011-06/14/content_12691254_3.htm
Landslide kills seven in E China
FUZHOU - A landslide triggered by the tropical storm Sarika killed seven people in East China's Fujian province Sunday, local authorities said early Monday.
The accident happened at 10:30 am Sunday in Kanshi town in Yongding county in Longyan city of Fujian, when more than 100 cubic meters of landslide buried seven employees of China Communications Construction Company Ltd and their family members in a rent house, said an official of the county's government.
Seven bodies were found at 3:35 pm, after four hours of searching, the official said.
Sarika, this year's third tropical storm, weakened to tropical low pressure after landing in South China early Saturday. The storm had brought 226 millimeters of heavy rains to Kanshi town from 8 am Saturday to 5 pm Sunday, according to the county's meteorological bureau.
http://www.chinadaily.com.cn/china/2011-06/13/content_12679232.htm
Rain-triggered landslide traps over 100 on highway in Tibet


LHASA, June 13 (Xinhua) -- More than 100 people in nearly 60 vehicles were trapped after a rain-triggered landslide Monday interrupted traffic on a highway in Tibet Autonomous Region.

The debris of the landslide, which happened around 8 a.m., buried about 30 meters of the Sichuan-Tibet Highway in Tibet's Nyingchi County, said rescue squad leader Liu Wanlin.

Twenty-five rescuers are attempting to clear the debris with an excavator and two loading machines, as well as free those trapped individuals and get them to safety, Liu said.

He added that it's hard to estimate when traffic will resume, as the cleanup efforts have been hampered by the risk of further geological calamities.
http://news.xinhuanet.com/english2010/china/2011-06/13/c_13926938.htm
Photo: