A stream of high-speed solar wind is buffeting Earth's magnetic field and stirring up geomagnetic storms. At this time of year, the midnight sun interferes with the visibility of Northern Lights over Alaska and Scandinavia, but the situation is different on the other side of Earth. Southern Lights were on full display this morning in the dark autumn skies of Queenstown, New Zealand: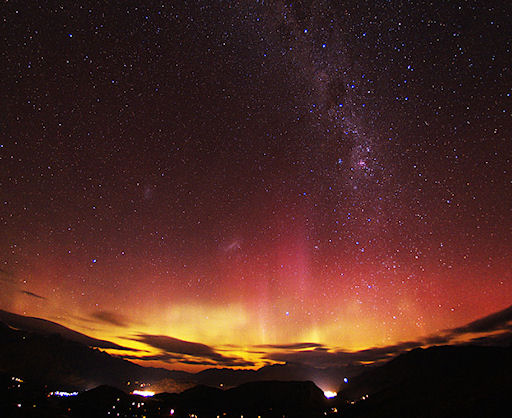 "I actually missed the most intense part of the display," says photographer Minoru Yoneto. But as this 30-second exposure shows, "better late than never!"
High-latitude sky watchers should remain alert for auroras as the solar wind continues to blow. NOAA forecasters estimate a 20% - 25% chance of geomagnetic storms in the next 24 hours.
more images: from Brian Larmay of Pembine, Wisconsin; from Neva Andersen of Saint Cloud, MN; from Dave Curtis of Dunedin, New Zealand; from Ian Stewart of Hobart, Tasmania, Australia; from Zoltan Kenwell of East of Edmonton, Alberta, Canada; from Tom Luttrell of Mount Nelson Signal Station, Hobart, Tasmania; from Beatrice van Eden of Antarctica;