Italy collapse would be the 'end of the euro'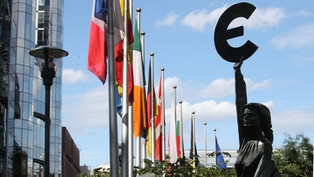 Italy had to pay record rates to raise €10bn this morning, while France and Germany warn that a blow-out in its giant debt mountain would signal "the end of the euro."
Meanwhile, EU Economic and Monetary Affairs Commissioner Olli Rehn has upped the pressure on Italian Prime Minister Mario Monti's new government, calling for "an ambitious timeline" on economic reforms.
"Italy is faced with formidable challenges," Mr Rehn told Italian lawmakers during a visit to Rome.
"The new government needs to deliver on fiscal consolidation and adopt bold measures to re-launch growth," he said.
''Full and effective implementation will be key," he said, adding: "It would be essential to give strong signals to citizens and markets with a clear and ambitious roadmap for reform and an ambitious timeline."
In its bond auction, Italy was forced to pay a rate of 6.504% on bonds due in six months and 7.814% on bonds due in two years - dangerous levels that analysts say could drive Italy insolvent within months.
A day after a summit in Strasbourg with German Chancellor Angela Merkel and French President Nicolas Sarkozy, Mr Monti's press office reported the two leaders had said a debt collapse in Italy would be "the end of the euro."
more