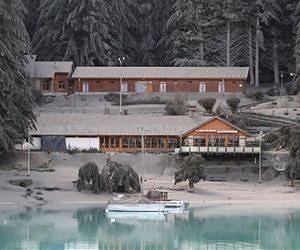 Picture taken on June 19, 2011 of the port of Villa La Angostura, in the Argentine province of Neuquen -- covered with volcanic ash from Chile's Puyehue volcano. Thousands of evacuated Chileans were allowed to return home Sunday two weeks after the eruption of the Puyehue volcano, which sent a huge ash cloud into the sky and disrupted air travel in the southern hemisphere. "The volcano's activity has been steadily decreasing, which allows us today to lift the evacuation order in the area and permit the 4,270 people who have been evacuated to return to their homes," said Laurence Golborne, Chile's minister for mining and energy. Photo courtesy AFP.
This upscale resort town in Argentina's Andes, popular with jet-setters for nearby skiing and jaw-dropping scenery, is distraught digging out of a thick blanket of volcanic ash and facing an uncertain future.
Chile's nearby Puyehue volcano, which June 4 burst into eruption after decades of silence, disrupting air traffic in South America, Australia and New Zealand.
It also turned the lush green local landscape -- where the heavy snow has yet to begin -- and its crystal blue lakes, 100 shades of gray.
"It is all gray where everything was green," said Ricardo Alonso, a doctor by training who is now mayor of the Villa La Angostura, a town of 14,000 now overrun by road trucks trying to shovel away tons of ash.
A stressed Alonso said the local situation remains "dramatic."
"We were the city that the volcanic eruption hit hardest," he told AFP, noting that it was buried in more than 30 centimeters (12 inches) of ash.
The quaint village done up in Andean-alpine style and set on the bank of sprawling Lake Nahuel Huapi, is feeling charm-impaired. Its usual postcard colorful perfection has been turned into a sad black-and-white film, dotted with fire trucks and emergency military tents.
"I have never seen anything like this. I have seen lots of heavy snowfall, sure, but this is unheard of. It is as if someone had dumped tons of mud on top of us," said Marta Cabezas, a retiree pointing out how the rain has turned the ask into muddy slush.
It is not yet known how serious the effects will be on lake fish, river fish and the local environment more broadly. If the effects turn out to be lasting it could rock the largely tourism based local economy.
Among its frequent visitors from abroad are the Dutch heir to the throne Willem-Alexander and his Argentine-born wife, Maxima.
For now, there are simply not enough snow plows to clear all the streets of ash and volcanic slush.
"We are in a battle -- the people against the ash, and it's not time for thinking so much as for fighting" to make some progress, the mayor said.
A dedicated crew of about 400 volunteers are rushing to try to do their part to get things closer to normal, sweeping off rooftops, sidewalks, the entrances of hospitals and handing out food and water to those in need.
"The pine trees are just pitiful. They look like they have been defeated -- with their branches giving under the heft of the mud -- and you have to watch out because they can snap and fall on you," said Cabezas.
In addition to potential fallout for tourism, authorities are keeping a close eye on the ash layer clotting up the Limay River. That is because it leads to the nearby Alicura hydroelectric plant. And authorities still don't know how it will affect the plant's turbines.
The mess could not have come at a worse time: just ahead of the winter high season.
Normally, at this time of year, the town's population doubles with visitors from Europe, North America and South America. And package tourists often are on swings with stops in Villa la Angostura and the Perito Moreno glacier.
The town itself already has seen about 5,000 of its locals depart indefinitely including senior citizens, pregnant women and people with respiratory difficulties.
"I think this season will be a total loss," said Maria de los Angeles Rola, 42, a worker at a cafeteria frequented by the Dutch royals.